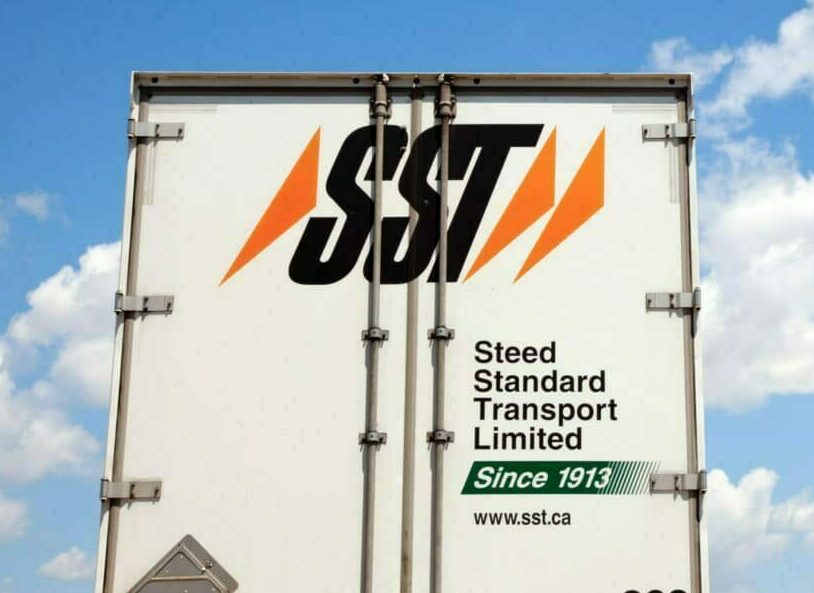 Pund-IT has the privilege of working with great companies and kind staff; the Client Feature is a chance to celebrate fellow clients and their work.
This month, we invite you to step into the world of Steed Standard Transport (SST), a family-owned business that has been an integral part of Stratford for over a century. 
Since its humble beginnings in 1913 with a horse and wagon, SST has grown into a thriving international trucking company, specializing in general freight within an 800 km radius of Stratford, extending its services to cover the Northeast and Midwest regions of the United States.
SST continues to adapt to evolving market needs while preserving a strong sense of family and community.
The Beginning of SST:
SST's origins go back to 1913 when the visionary great-grandfather of the current owner, James Steed, got into business with nothing but a horse and wagon.
This venture involved hauling coal to the people of Stratford, delivering luggage, transporting gravel for new roads being paved, sowing the seeds of a legacy that would endure for generations. 
As Stratford evolved over the years, the community's transportation needs opened doors for SST to specialize in hauling general freight, gradually building its reputation across Ontario and Quebec as well as the North-East and Mid-Western US.
Stratford became a flourishing furniture manufacturing hub during the 50's and 60's, opening up new avenues for transportation services.  SST established a connection with Kohler, a prominent public company in the furniture industry. 
This partnership paved the way for further growth and solidified SST's position in the sector.  Even during early regulatory licensing challenges, analogous to farmers' milk quotas, SST persevered, navigating successfully through challenging times.
Family Culture – The Heart of SST:
Family is at the core of SST's identity. James Steed, the current owner, has grown up with the company, participating in various roles as a child, from yard work to sitting alongside drivers during their routes to getting his commercial driving license in the '90s. In the 2000's James officially took the reins of SST and continued the legacy, focusing on contract work with a dedicated fleet.
SST prides itself on fostering a family atmosphere among its employees. This close-knit bond extends beyond the workplace, as families are actively involved in the company's events and functions, creating a sense of camaraderie and loyalty.
Celebrating Century Mark and Community Impact:
In 2013, SST celebrated its 100th anniversary with a grand open house event, showcasing the progress of the transportation industry with a truck driving simulator, car and truck shows, and even a horse and wagon to represent where it all started.
For their 110th anniversary, SST plans to host a more intimate Family & Friends open house, honouring their heritage and cherished relationships.
SST believes in giving back to the community and actively participates in various campaigns and fundraising events. From supporting the United Way to raising awareness for prostate cancer and women's shelters, SST makes a positive impact beyond business realms.
Building on his experience with SST, James serves as the Ontario Trucking Association president, helping represent the industry as a whole – this is a broad mandate serving all types of truckers in their relationships with government, insurers, regulators, public relations, and internal relations on safety, training, risk management, and business environment.
Setting SST Apart with Personalized Care and Attention:
SST takes pride in providing its clients with a "white glove" service. By nurturing relationships and treating clients as individuals, not just as numbers, SST goes the extra mile to forge strong connections.
Being a family-owned business gives SST a personal touch and a down-to-earth decision-making approach.
SST stands out from the competition through its unwavering dedication to customer service.  Key managers, including James himself, hold a licence and willingly step into the driver's seat to meet client expectations personally.  This personalized approach and value for each client create a strong sense of trust and loyalty.
Looking into the future, SST has recently added a full-time HR recruiter, an Operations Manager, and envisions building a second terminal to accommodate growth – all looking to secure its position and continue serving customers with the same dedication and care that has defined its past.
Conclusion:
From its humble beginnings in 1913 to its position as a respected player in the transportation industry, SST has not only survived the test of time but has flourished with each passing year.
As the SST team celebrates their 110th anniversary, SST sets an inspiring example for entrepreneurs and family-owned businesses, demonstrating that passion, adaptability, and commitment are pillars of longevity and success.
Looking forward to more years of serving you well,